My favorite mountain range is the Uinta Mountains in Utah. There are other ranges more beautiful, but the Uintas are so remote and challenging to run and has its own special beauty. It is one of the few ranges in North America that runs east to west. The Highline Trail (#025, #083) runs nearly the length of the mountain range. In its entirety, the Highline Trail is about 107 miles long. (mileage will vary because long sections are routes with no trail wear and the trail splits at times giving alternate routes.)
Many runners and hikers have considered the eastern trailhead of the Highline Trail to be the Leidy Peak trailhead, resulting in about 82 miles for the Highline Trail. I too considered that to be an end-to-end run when I ran it in 2010, the first to run it solo, unsupported. These runners and hikers are too quickly discarding the eastern portions of that trail to give themselves credit for an end-to-end Highline Trail run or hike. They are skipping 25.5 miles to the east that for decades has been documented as being part of the Highline Trail.
Here are some of the wrong information that I have seen on blogs about the eastern 25.5-mile section of the Highline trail.
That section is just a series of interconnected forest roads. Wrong, it is 99% trail, almost all single-track
That section is in terrible condition with hundreds of deadfall to hop over. Wrong. In 2013 the Uintah Basin Back Country Horsemen adopted that section of the Highline Trail and each year since have maintained the trail and have removed deadfall. I only had to hop over two trees crossing the trail.
That section is not marked. Wrong. The horsemen have done a great job remarking the trail and the route is starting to get some good wear from horse and a few backpackers. The two problem areas are continuation points when crossing roads or parks (meadows).
That section is all forest and not interesting, a waste of time. Yes, it is mostly forests without vista views, but there are beautiful parks (meadows) to cross and the forests keep changing along the way.
That section takes forever to run. Wrong. This eastern 25.5 miles consists of the most runnable trail on the Highline Trail and most of it does not contain the usual Uinta Mountain boulders. You can open up the running pace for long stretches.
There isn't water along the way. Somewhat true. You can get water at mile 4.4. If there has not been recent rains, the next reliable sources on the trail are about 15 miles away. You can detour off the trail to find water in some of the parks.
The late Stephen Jones and I agreed that a true end-to-end Uinta Highline Trail run starts or ends at the established trailhead 30 miles north of Vernal, and a half mile east of Highway 191 (Flaming Gorge Highway). We both desired to accomplish it and collaborated on information. In 1991 Utah ultrarunning pioneers, John Moellmer and Dana Miller ran the entire trail, stopping for the nights, finishing in about 75 hours. Back then the eastern section was is poor shape and it took them all of the first day to get through it. In about 2008 Scott Jamie and Aric Manning also accomplished this run for the fastest known time in about 51 hours.
In 2014 Stephen Jones made his attempt. He successfully ran the eastern 25.5 section in 9:31. In 2014 the trail was still being worked on and he had difficulty navigating in some sections. He reached Anderson Pass (mile 74.9) in 29 hours but decided to abort because of terrible storms.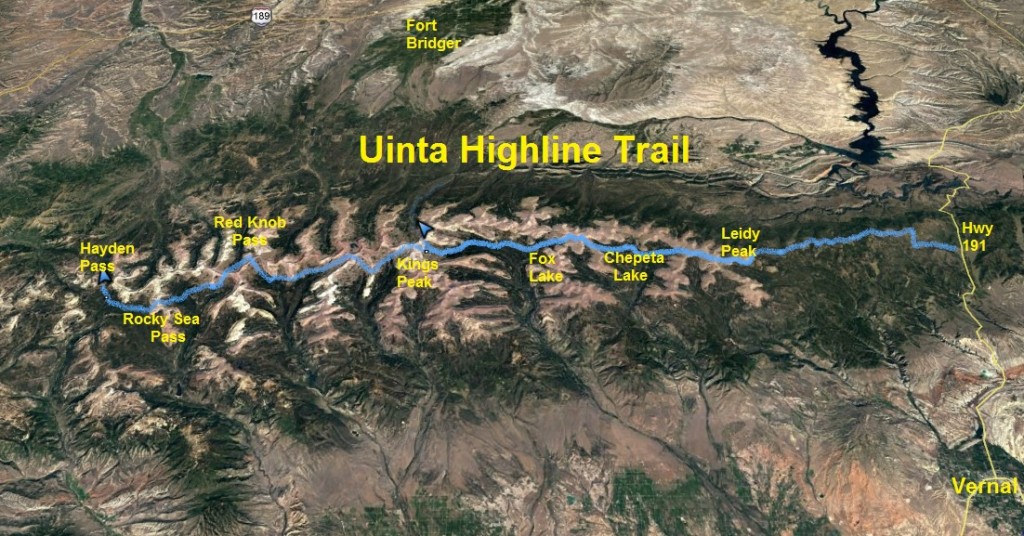 After backpacking 68 miles of the trail this summer in six days, and with my experience running on long segments of the trail eight other times, I felt confident that I knew the trail well enough to make my attempt for a true end-to-end run and do it solo. My goal was to finish in 44 hours, but that would require me to run through two nights. If successful, I would be the first person to run the complete trail in less than 48 hours and also do it solo.
On Thursday, I boarded an early-morning Greyhound Bus in Salt Lake City that delivered me to Vernal at about 11:30 a.m. After a short wait, I successfully hired a city cab to take me to the trailhead for $80. At 1:15 p.m. I was off and running with a ten-pound pack that included food, clothes for the night, rain gear, and items I would need along the way. I used an app on my phone as a GPS in airplane mode with all the Topo maps I would need. I also brought a small battery pack to recharge my phone and GPS watch. For my family and friends to track me, I brought a Spot device.
The day was cool and overcast with some storms on the way. That is actually great weather for the first 25.5 miles because the trail starts around 8,000 feet and it can get hot, especially in the exposed newer forests. The first three miles are shared with an established ATV trail and this section is very easy to follow, even before sunrise. I saw my only humans for nearly 70 miles in this section. After crossing a forest road, the trail turned into single-track, no ATVs allowed. At mile 4.4, at the 1:15 mark, I reached East Park Reservoir, the last reliable water source for a while. (I did see some other little streams later because of recent rains). I filled up three water bottles and treated them with iodine because this was cow country. My early pace was good, 15 minutes ahead of Stephen's 2014 pace.
After crossing another road, at mile 6.3, I experienced a navigation blunder. The trail joined a faint double-track old logging road and I failed to understand that a cairn was identifying a turn off the road. I wandered around for six minutes until I backtracked enough to figure out my mistake. It is possible to skip running much of the trail and instead run on forest roads for about ten miles of this eastern section, but I consider that cheating and not running the Highline Trail so I remained true to the trail. I could have bailed out to roads during the few times when I lost the trail, but instead I took the time to fix my navigation blunders. Because I was uncertain of this section, I consulted my GPS app many times which greatly slowed me down. But consulting the maps often lowered my stress and kept me on course most of the time.
Clues to stay on the trail were the usual Highline Trail clues, very old double blazes on trees and even some new ones, cross cut logs from trail clearing, cairns, snow mobile diamonds, and recent trail wear (and poop) from horses. Staying alert for these clues helped me stay on the intended trail and presented an entertaining challenge.  Beware, it really does take many hours of experience to see these clues on the Highline trail to allow you to run fast. It isn't too fun to run fast and come to a screeching halt, realizing you ran off the trail. For this 25.5 eastern section, the route is true with the documented trail on old topo maps. I was very impressed with all the trail maintenance performed by the horsemen, even with fresh blowdown clearing this year.
There was plenty of climbing along the way, about 3,000 feet during the first 25.5 miles. The trail crossed about 20 forest roads along the way and finding the continuation point was often confusing and caused several delays. I should have researched those crossings better. In the Uintas the wide open meadows are called "parks" and sometimes the continuation points on the other side of a park was also hard to find, but I had researched those, and my GPS app helped me find those points each time.
A thunder storm hit me at about mile 9 and I started to get cold and discouraged. I brought ziplocks to keep my gear dry, but as I kept pulling out my phone it got wet and I worried that it would stop working. I was foolish and didn't bring backup hardcopy maps. My fingers were so cold that the phone couldn't detect my finger controls to unlock the phone. When I worry or feel stress while I run, I slow down. Thankfully the storm passed, I warmed up and my phone was fine. From then on, I would only experience occasional sprinkles. The cool cloudy weather was a blessing because I didn't need to drink much water during this early stretch and my three bottles were plenty. I reached Lonesome Park (mile 10.5), 20 minutes ahead of Stephen's pace.
The trail climbed over some forest passes and around a couple high knobs. I arrived near Trout Creek Peak (mile 18.2) at 6:10, still 15 minutes ahead of the best known pace of Stephen in 2014. I knew I was going slowly, only a bit better than 20-minute miles delayed by careful navigation and stops to adjust stuff.
My new Spot device was working great. Back home friends and family were watching my track. When I planned to stop for more than 10 minutes, I would press the "OK" button which I used to indicate that I was fine, but stopping for a while. If I would decide to bail out of this adventure, I would press the "Help" button which would send a message stating that I was bailing out early and needed a ride home. They should watch my track heading for the nearest established trailhead. I felt confident that I wouldn't need to use that button.
Above massive Summit Park the trail followed a wide snowmobile trail on top of a ridge that was wonderful and clear to run on. I really opened up the speed for long stretches. I was having a great time but worried about the impending dark. I had hoped to reach familiar Leidy Peak trailhead by dusk. Dusk came at Summit Park (mile 21.3) where I arrived at 7:00. I was more than an hour ahead of Stephen's pace. But I lost much of that time as I stopped for nearly a half hour to prepare for the night, changing into warm clothes, getting out my lights, eating, fixing feet, and resupplying food for my pockets.
As I continued on in the dark with my green flashlight and beam headlamp, I was delighted to detect reflective signs across the park where I would continue on into the forest. The trail was very well marked with cairns accompanied by the usual cross cuts. Many portions of the trail appeared to be also used by cross-country skiers. But still I blundered. I reached a small meadow and couldn't figure out where to continue. I circled that meadow and thought I found the continuation point but it actually was the point I entered the meadow. I happily ran along the trail backwards for at least a half mile until I realized that the moon was on the wrong side of the sky. I looked at the compass on my watch and I indeed was heading backward on the trail. I felt so foolish and hoped that no one back home noticed my track. I thought I had blundered for multiple miles which really upset me, but I actually only lost 15 minutes.
I finally arrived at the familiar Leidy Peak trailhead (mile 25.5) at 9:30, right on my pace goal and Stephen's 2014 pace. I had actually traveled about 1.5 miles more because of my various wrong turns. Now that I have run that section, I believe I can cut the time down to 8:00 next time.
At the trailhead was a guy in camper with lights on. I was so tempted to go knock on the door and ask to rest in the warm camper, but I pushed on ahead. This would be my third time on this next section of the trail. All seemed to go well as I circled around Leidy Peak but then I faced my most difficult challenge of the run. The route goes near the top of ridges and and the trail route is undetectable except for cairns spread widely apart. I constantly got off course. I could go back to the last cairn or use my GPS app to hopefully get me back on the right route. If I wasn't on the exact route, I ended up in boulder fields. The wind up there was very cold. I put on another layer and that helped. I still had two more if needed. The moon helped me make sure I was heading in the right direction which usually was on a pretty straight line. The night sky was amazing and I witnessed several shooting stars.
I reached a snow field blocking access to Gabbro Pass. The snowfield has melted greatly since I was there about six weeks earlier but it still required me to do some steep rocky climbs to get around it. I arrived at Gabbro Pass (mile 30.9) at 12:17. I had wasted about an hour wandering around and boulder hopping during this discouraging five miles.
Things got worse between Deadman and Whiterocks Lakes as my GPS route didn't match the actual route at all. It was so frustrating to lose all the cairns and wonder if my GPS app was working right. The moon had set, so there was less light to help. I used the stars to help keep me going in the right direction instead of constantly watching the GPS map. Finally after heading down a steep slope I found the trail that led me to Whiterocks Lake (mile 34.9). I arrived at 14:32. Those last 8.4 miles from Leidy Peak trailhead had taken me five hours! That had been an awful experience. My best time during the day for this section is about 3:30. The fasted known split is 2:16 and I had just traveled it in a exasperating five hours. I will never again attempt that section during the night.
Now down in the forest and meadows the trail was much easier to follow at night but I had not been eating or drinking much during the past five hours of frustration, concentrating so hard on navigation, so I now had low energy. I reached Chepeta Lake (mile 39.4) at 16:30, 1.5 hours behind schedule. I thought at the time that I was about three hours behind schedule. I stopped at the restroom there for 20 minutes to regroup, eat, and warm up. There were several campers sleeping nearby. Dawn was approaching but it still was pretty cold.
About a mile later as morning arrived, my mind was mushy and I thought I took a wrong turn. I backtracked a quarter mile back down a rough hill only to discover that I had been on the right trail after all. So far with my wrong turns and wandering I had added nearly three miles to my travels. At Reader Lake output, I made a very long stop of 30 minutes to change back into my day clothes, apply sunscreen, and care for my water-logged feet. The trail was mostly dry, and I could slow down more to carefully cross wet meadows, but I had decided to just plow through them to save time. The result was that my feet were generally always wet. I didn't have any blisters but the wet socks were wearing holes rubbing against the shoes. I only brought one other pair of socks and those would eventually have holes too.
On the trail again, I climbed high North Pole Pass (mile 46.5), arriving at 20:20. With my two long stops I was now nearly three hours behind schedule. I needed to pick up the pace and I did. I descended down to Fox Lake (mile 49.3) at 21:20, having regained 30 minutes. I was now 50 minutes ahead of Stephen's pace.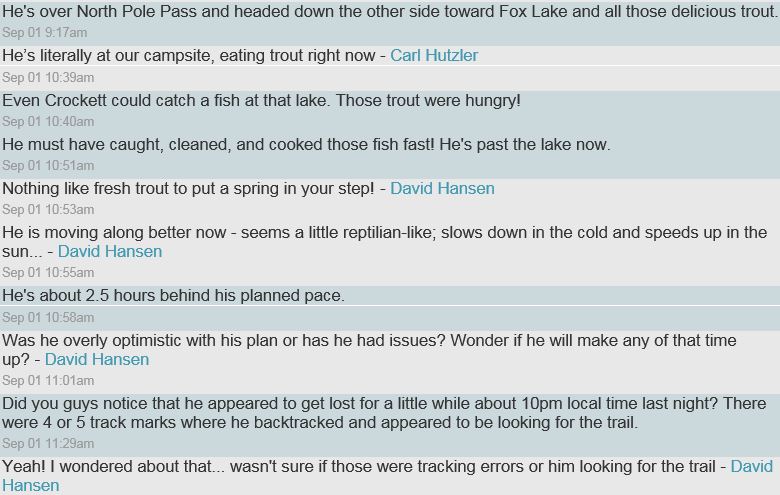 But as the morning got warmer, my lungs started to fill a bit from my sinuses making it difficult to catch my breath. This always happens after running for at least 15 hours. I started to slow on all the short climbs and it was getting harder to keep my miles below 20 minutes. At about mile 52 at the 22 hour mark I stopped to lay down, catch my breath, and eat. I realized that I was not quite yet at the halfway point and had already used 22 hours. Reaching the end by 44 hours would be tough but I knew the rest of the trail so very well. I used an inhaler to help clear the lungs and for the next mile just used a fast power walk, instead of running, to calm down my breathing. That worked. But during my stop I had discovered that I had already gone through well over half of the food I brought. I started to ration my food better but that affected my energy level and speed.
I reached Kidney Lakes (mile 64.3) at 23:29, three hours behind schedule but 45 minutes ahead of Stephen's pace. I always hate the next section to Painter Basin which is very rugged and has some long forested climbs. At least the shade helped keep me cool. Along the way I considered for the first time bailing out to Henrys Fork. But when I ate, good energy returned, and I really believed I could still reach my goal. I realized at dusk I would need to stop, build a fire, and find sleep for an hour or more, so I started to make plans in my head.
I reached Painter Basin (mile 60.7) at 26:10. (In reality I had traveled 3.2 more miles than that so far due to wrong turns and wanderings during the night.) I stopped in the shade of a tree for ten minutes. I was nearly four hours behind my planned schedule. As I debated whether to continue up and over Anderson Pass, my decision was made for me. I checked my food situation and 3/4ths was gone, yet I still had probably 22 hours more to go. I had no choice. It would be impossible to finish. I should have brought twice the amount of food.
I continued on the Highline Trail to the junction for Gunsight Pass, the start of my bailout point. I continued for another mile and then pressed the "Help" button on the Spot device to alert family and friends that I was bailing out. I sure hoped that they would get the message and that someone would be at the trailhead about 13 miles ahead.
It was discouraging to fail and I considered that at age 59 I was now too old to achieve this bucket list goal. The fastest known time for the entire Highline Trail would have to be broken another day and probably by someone else.
The climb up to Gunsight Pass was hard and slow. There is no way that I could have continued to climb up and over six more passes. But I knew I had not been eating much and shouldn't expect to climb strong at this point. As I ran down Henrys Fork, my shoes dried out and started trashing my water-logged wrinkled feet. I had to stop a couple times to tape them. I ran across my first humans since 26 hours earlier. Some of them thought I was running Kings Peak in one day. If they only knew! I didn't try to explain that I had run more than 70 miles straight and started at a point north of Vernal. One couple noticed that I really looked haggard, probably because I had not slept for about 37 hours. I did my best to tell them that I was just fine.
Darkness arrived with three miles to go. My bailout to the trailhead took me more than five hours. I prayed that someone would be there to take me home. If not, I had no idea what to do. I was thrilled to find my wife, daughter and son there in good spirits. They had enjoyed the family "road trip" to get me. They had arrived just 15 minutes before me.
My 77.9 mile, 32:20-hour adventure was over. It felt very similar to finishing a tough 100-miler like Wasatch 100 which I will attempt to run in a week. The long drive home was painful and punishing but I came out well with only two little blisters and very little muscle soreness the next day. My Hoka Speedgoats performed amazingly well. I finished with no foot fatigue despite all those rugged miles running on boulder tops.
I first decided to drop the idea of running the Highline trail end-to-end, but the next day I considered what I could do different
Drive out to the start and along the way drop off food and my night clothes etc at Chepta Lake, mile 39.4. That way I could run with a very light pack for the first 40 miles while very fresh. I would then restock with food for the remaining 68 miles. That would make the attempt solo self-supported instead of unsupported.
Start at dawn. With the lighter pack and daylight for those first 40 miles, I should be able to cut my time by nearly five hours. Dusk arrive soon thereafter but at thst point it would be fine because the trail would be easy to follow during the night to at least Yellowstone Basin.
A few days after finishing go to Vernal by plane or bus and get a cab ride to retrieve my car.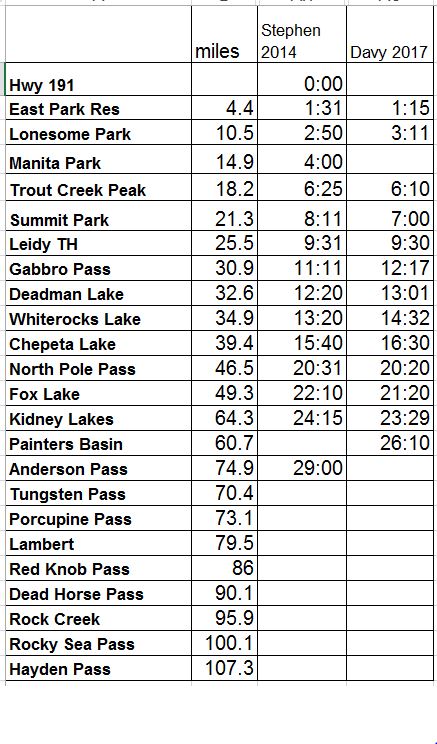 Will others try this?  Probably, but they should be sternly warned that this is extremely hard and not a game. Running the Highline Trail for long distances requires a lot of experience. I attempted this only after running segments of the trail many times, including about 40 hours on the trail at night. I also have summited Kings Peak 16 times, with several at night. I don't want some naïve runner getting themselves is trouble, far from any help.