The Uinta mountain range in Utah is one of the few ranges in North America that runs east to west. This mountain range contains all of the Utah peaks higher than 13,000 feet and it is the most remote mountain range in the state. The highest continuous established trail in the Uintas is the Highline Trail (#025) that runs the length of the mountain range. This very remote trail is one of the most remarkable trails in the nation. In its entirety, the trail is more than 100 miles long.  An 82-mile stretch from Leidy Peak on the east to Hayden Pass on the west is generally recognized as the end-to-end expanse of the trail. The rest of the trail is through mostly forest outside the wilderness area.
Previously in 2007 and 2010 I had successfully ran the Highline Trail (the first to run it solo), documented that experience, and shared my GPS data and waypoints for others to follow. Others have tried and succeeded in running the trail, but many have failed. This is a difficult, rugged experience that should not be taken lightly. The effort is very similar to running a tough 100-miler with no support. The reasons for difficulty are:
Thunderstorms are frequent in the high Uintas. If the trail gets wet, if becomes very slow and difficult.
The Uintas are known for its boulders. Much of the trail goes up and down boulder-strewn drainages between passes. Trail maintenance is performed infrequently because it is so remote and they don't try to divert all the streams from going down the trail.
High Altitude. Much of the trail is above 10,000 feet.
Bail out. Once you get into the heart of the mountain range, any trailhead is about 15 miles away down rugged, difficult trails.
If you go in a group, there is a very, very high probability that at least one of you will need to bail out.
You need to take everything you need with you. The trailheads are too far away to go in and drop things off.
For long stretches the trail is faint or non-existant, only marked by occasional cairns. If you don't know the way, you will get off trail, especially at night. That really slows things down. Following a GPS track or waypoints can help. Getting lost is pretty impossible for ultrarunners. All the trails heading down valleys eventually get to a trailhead with campers.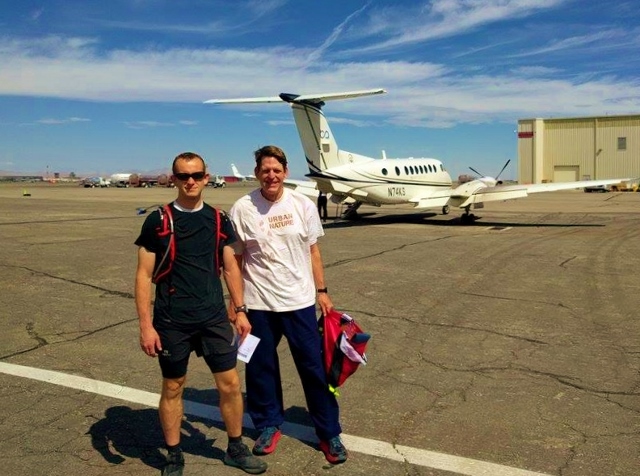 I've wanted to run the Highline trail again for some time, but the logistics of shuttling vehicles or getting rides makes it very inconvenient. Jimmy Thomas contacted me, offering to handle all the logistics if I would guide him. I jumped at the opportunity. Even if we were not successful, it would be a great adventure to be in the Uintas. We discovered there was a very convenient way to get to Vernal by taking a prop plane there for only $49 from Salt Lake City airport. We would then stay overnight with the Halls, Jimmy's friends living in Vernal, and get a ride to the trailhead the next day. They even provided playing games with the kids, eating a nice barbeque, and comfortable beds.
All worked out very well, but my main concern was the weather. I had agreed with the opinion of the late Stephen Jones, that a Highline Trail run should not be conducted if there was any chance for thunderstorms. Because of storms, he had to bail out twice. My two successes were in good weather. I knew I was breaking this rule with a chance of rain, but wanted to still give it a try to help Jimmy succeed.
On the way to the Leidy Peak trailhead, the road was wet from a recent overnight thunderstorm. We reached the trailhead at dawn and were off and running in the faint light at 5:40 a.m. Jimmy took off fast. Within the first half mile I took my first fall, a bad one, banging up my knees and an elbow. Blood dribbled down my leg. What a way to start! I determined that nothing was terribly damaged but it slowed me down for a while. I just wasn't used to running with a ten-pound pack including all my food, clothes, and a satellite phone.
The first 14.5 miles is a stretch that I had only run once and my memory of it was rather poor. We lost the trail at about mile two, but using my faint memory, we soon got on track again and climbed above the tree line. The grassy slopes were great fun to run on as we climbed up and over ridges and then into forest by several lakes. For many stretches it really didn't matter if you were on the exact route as long as you were headed to the next pass.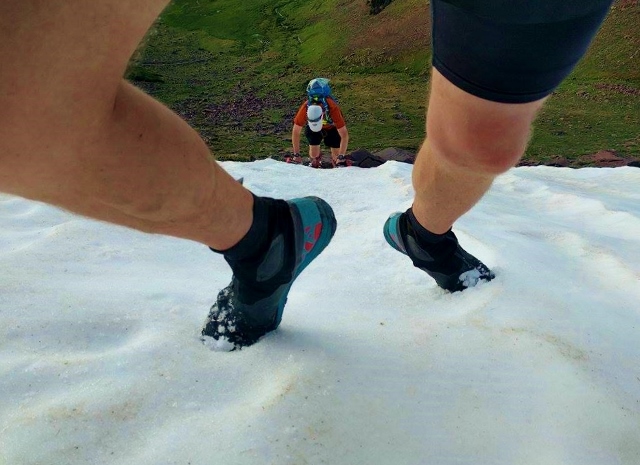 The first major pass, Gabro Pass, is usually the only pass to worry about holding onto its snow in July and August. Sure enough, a huge steep snowfield blocked the trail to the top. A proper route during this time of year would have been to take another trail spur and climb to the left of the snow field, but as we approached it looked like we could still take the normal route and skirt up a short snow field. Jimmy accomplished it well, but it freaked me out and I backed off. (I've taken too many scary slides down snowy slopes). I didn't want to slip and slide into a huge sharp boulder that was underneath us. Instead I went further around and hand-climbed up a short but somewhat scary rock climb. That would be our only difficult trail obstacle for the trip.
Chepeta Lake (mile 14.5) was our last brush with civilization, another trailhead. I took a long unavoidable bathroom break and we ate our second breakfast. From here the trail has been relocated several times and is still marked for older, shorter routes. Because we were running at a good pace, it was easy to head off route. You just can't continually stop and look around for the next cairn. Instead you need to feel confident that you are heading in the right direction. But inevitability at times you go wrong. We lost the trail while two large moose in a field were looking at us and we just couldn't find any cairns. I generally understood the correct direction for the trail so we blazed ahead and eventually stumbled on the trail. We lost 15 minutes because of that blunder. So far our delays had already cost us about an hour. With four hours in, we were already an hour behind the fastest known time.
After running past Reeder Lake, a terrible thunderstorm rolled in dropping painful hail. We ran for protection in trees. The temperature quickly dropped and I started to shiver. I put on another layer while being pelted by hail and rain, but that wasn't enough and soon I had all my layers on. Our delay was nearly 30 minutes. As soon as the hail stopped, I felt urgency to get going, so led Jimmy ahead in the rain. The storm left up to a half inch of hail in areas, but the worst result was that this huge storm covered miles and miles of our trail with at least a half inch of rain. Streams now appeared where they weren't before and existing streams were roaring in places. The net result was a slow, difficult trail. In 3-4 hours, much of the trail had drained out, but in the valley marshes, it was soggy and slow.
We ran up and over North Pole Pass as another thunderstorm approached that freaked me out. As Jimmy wanted to stop to take pictures, I just wanted to flee down into the forest ahead. It all worked out well but the trail down was now a series of streams.
We reached Fox Lake (mile 24) at about nine hours into our run, 45 minutes slower than my 2010 time and 3.5 hours slower than the fastest time. We stopped for a few minutes to have a friendly chat with a scout troop who gave us cheers as we continued on. I knew if we were going to get this trail finished that we really needed to pick up the pace. Jimmy needed to fill his water bladder but it took him 15 minutes to use his non-pump filter. We just couldn't keep having long stops like that and I convinced Jimmy to put aside the filtering and instead we would choose safe-looking side streams and snow melt to fill bottles in seconds.
The afternoon was pleasant and cool but everything was wet. My shoes had been continually soaked ever since the storm, but I was used to running in wet feet, so it wasn't a big deal. My focus was to get us to Anderson Pass by Kings Peak by dusk. We ran into a several other backpacking groups and a group on horses who were all stunned at what we were attempting and how far we had already traveled. One group was very tired, hoped to reach North Pole Pass by night, but we gave them the bad news that it would be impossible.
As we climbed toward Anderson Pass, the altitude started to bug me and slowed things down quite a bit. I looked forward to getting up and over the pass to lower altitude. We nearly made Anderson Pass by dusk and stopped to get out our lights and call home using the satellite phone. Also in that area, cell service could be reached. Text messages and email popped in – the only place that happens on the trail. We reached the pass at about 9:45 p.m., the high point of the trail at about 12,540 feet. We were 16 hours into our run and not quite at the half-way point yet. We were two hours behind my 2010 pace and six hours behind the fastest time. At this rate it could take us a long 36 hours unless we started seriously running. I knew we could make up time in the dark because I knew the trail pretty well ahead, being on most of the sections five times before.
As we headed down in the dark toward Yellowstone Basin, I hoped that we could really make good time and I tried to start flying down the amazing trail carved into the steep slope. But after a while, I looked back and Jimmy's light was far behind. I wondered if he just couldn't see with his lone headlamp. I waited for him and heard the bad news that he had a sore knee bothering him and he could only walk down the trail. Things improved as we hit the grassy slopes. But after a few more miles, we stopped and took a 15 minute break. I explained to Jimmy that at our current pace that we would not finish before dark the next night and that adventures far over 30 hours were very painful and not fun. There was a very good chance that his knee would get worse. I suggested that we bail out at the Yellowstone Creek trail which would be about 16 miles downhill to the trailhead which we should ready soon after dawn. Jimmy agreed. We tried calling his friend, hoping that he could pick us up after dawn, but his cell phone was turned off of the night.
A couple years ago I had run up and down the Yellowstone Creek trail to Kings Peak and knew it would be long, but a fairly easy route out. Unfortunately the trail was marked poorly as it crossed a major creek and we just couldn't find the continuation despite searching for 20 minutes. There were no foot tracks and a continuation cairn could not be located. (After returning home, I discovered that the route crossed a marsh). We had no choice but to turn back, go up over Tungsten Pass and head to Gibson Basin and out to the Center Park trailhead, a bailout Stephen Jones had taken several years ago when a bad storm hit during the night.
We successfully stayed on course only losing the trail for brief moments. From Gibson Basin the trail was easy to follow, well-traveled, but very, very rugged. I had forgotten how terrible the trail was. I ran that trail in the dark a couple years earlier on fresh legs and it was no big deal. But with our tired bodies in the dark it was a very, very hard route to end on with many long ups and downs and much sloggy mud. Our pace was slow, only two miles an hour. I thought the trailhead would come many miles before it did. It was frustrating and we didn't reach the trailhead until 10:30 a.m. for an adventure that lasted a very slow 28:49 and covered at least 65 miles.
Jimmy's friend Nathan came to our rescue after we rested for 90 minutes, took us to Heber where my wife drove us the rest of the way to the airport to pick up our cars.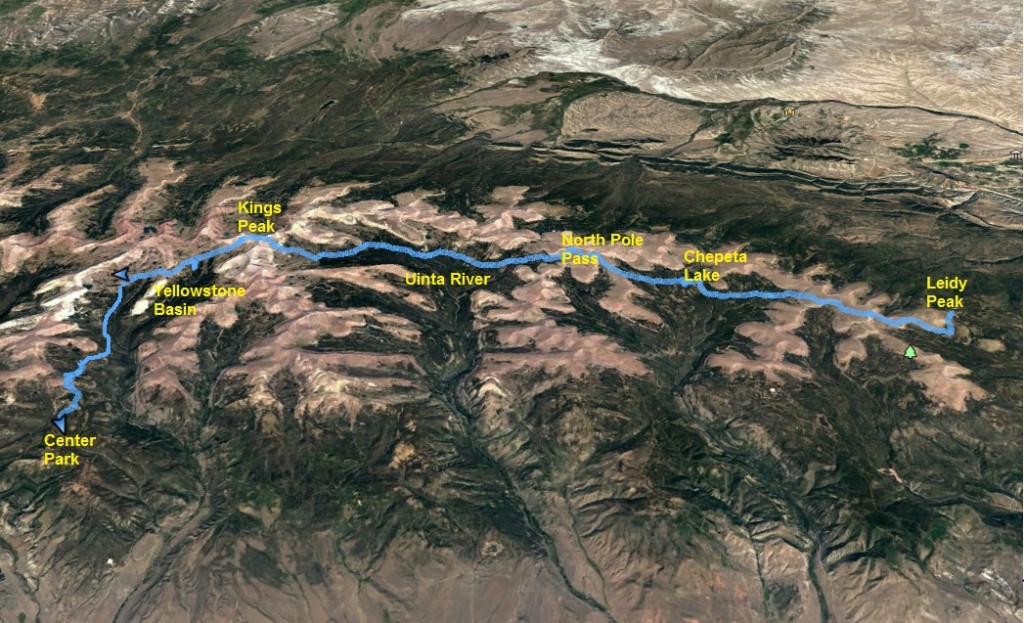 It was a disappointment to not succeed and run the entire trail this time but I still really enjoyed the experience, the good company with Jimmy, and seeing the beautiful high Uintas again. But I vowed to never again attempt a Highline Trail run if bad weather is forecast or if the trail is soaked by recent rains. It just isn't worth it and is not nearly as fun as running a dry trail.
In just another week I will backpack the Highline Trail in six days with my buddies and I'm sure will find time to do some fun side runs.