The Bonneville Salt Flats are an expanse of hard, white salt crust on the western edge of the Great Salt Lake basin in Utah.  They are 12 miles long and 5 miles wide covering just over 46 square miles.  Near the center, the crust is 5 feet thick in places.  That is 147 million tons of mostly table salt!  It is the site of some astounding land speed records over of more than 600 mph.  Surrounding the Salt Flats are miles and miles of Salt Mud Flats with various islands poking up.
I've been helping a friend who is working with the BLM to get a 100-mile race approved out in the area.  I decided to go try running a portion of the proposed route.  I took my son, Kevin with me, who is taking up ultrarunning.  For this adventure, we would run along the Bonneville Dike through the salt mud flats all the way to Floating Island and back, a run of 26 miles.  We would be about ten miles east of the famed Salt Flat Speedway, and about 90 miles west of Salt Lake City.
To avoid attention to my car and possible ticket, I parked on a frontage road, south of I-80.  We began our run by running on mud flats and crossing on the Interstate to an access road to the dike.  An alternative would have been to just park out on that access road because there was no gate.  Perhaps that would be been fine.
The Bonneville Dike is an amazing piece of construction.  It is a rock surface that is raised about four feet above the salt flat surface.  It extends straight toward Floating Island to the north for ten miles, connecting to a gravel road that takes your onto the island.
The surface of the dike is very runnable with a mostly smooth surface in the double track.  However, because the dike is made out of rock, the surface is pretty hard and there are rocks poking up waiting to trip you.  It seemed like running on a rough, but not too technical trail.  I immediately discovered that the road shoes I was running in wouldn't be enough protection, a trail shoe, especially Hokas would have worked much better to keep up the speed on the dike surface.
I located Floating Island in the distance and asked Kevin how far away he thought it was.  It was an astonishing optical illusion.  It appeared to be only 3-4 miles away but in reality it was 13 miles away.  As we ran it looked like it was never coming any closer.
The surrounding salt mud flat expanse was amazing.  We couldn't resist trying to go out and run on it.  The spring-time surface was quite soft.
As we ran, our feet would sink in 1-2 inches and in softer spots even more.  I could tell that if I would run more than a quarter mile on this surface it would be pretty tiring.
I imagine that in the summer the surface would be dried out more and harder, but even the Donner Party kept getting stuck in it over and over again during the summer of 1846 causing a terrible delay resulted in tragedy in the Sierras.
Kevin was making good progress for a relatively new runner.  He ran the Buffalo Run 25K only six days ago but still had the legs to do this run.  We took with us about five water bottles each.  The temperature was a pleasant, warm 70 degrees.   We dropped off a water bottle at miles 3 and 6 for the return trip and to lighten our load.
Along the way we paused to eat at the Salt Flats diner.  They cooked us up a tasty meal on their wonderful stove.
Looking back toward I-80, the semi trucks going by could still be seen miles away but they were now floating on a mirage, seemingly plowing through water.
I commented that if we had forgotten salt tablets, that wouldn't be a problem.  There was lots of pure salt blown up to the base of the dike.
We soon approached a fence out on the salt mud flats that went on and on for miles.  I ran out to it.  This was a boundary of a Hill Air Force base restricted area that you could only go with permission from the base commander.  In this expansive area, pilots do training, sometimes carrying live bombs on their jets.  You wouldn't want to have one of those drop on your head.
Along the dike, there were occasional white mile markers counting from 10 to zero.  After we had gone ten miles, Kevin knew he shouldn't go more than 20 miles, so I told him to start heading back.  I dropped off my backpack and ran quickly the remaining three miles out to Floating Island.
The terrain changed as I neared the island.  Bushes appeared in the mud flats and blown sand piled up around them and the dike.
The dike ended but connected to a soft, wide gravel road that continued to the island.  This surface was softer, free from bigger rocks and I could run much faster.
The island was a dry desolate place.  I had a very remote feeling being out there so far away from any development on an island in the middle of wide-open salt mud flats.  As I looked back to the south, I could no longer see Kevin, he was now about five miles away.
It was time to head back and try to catch up with Kevin.  I ran a 9:30 pace, just a shade slower than the land speed records set nearby.
Along the way, I noticed a message on the mud flat.  Did Kevin put it there?  Ha, ha, no, but I thought it was appropriate as I was trying to catch him.
After several miles, if I looked very carefully, I could see a tiny stick figure, box-shaped at the horizon.  Sure enough, it was Kevin far away.  With about seven mile to go, now that the sun has shifted around and was setting, I could see moving semi trucks on the horizon on I-80.  They looked so close, but I knew they were still many miles away.
Finally with about two miles to go, I caught up with Kevin who was now walking it in but feeling fine.  We had a mild salty headwind to contend with and both noticed salt on our skin.
During our last mile, the sun set across the Salt Flats with sparkling reflections across the salty surface.
Running along the dike in the setting sun was an amazing experience.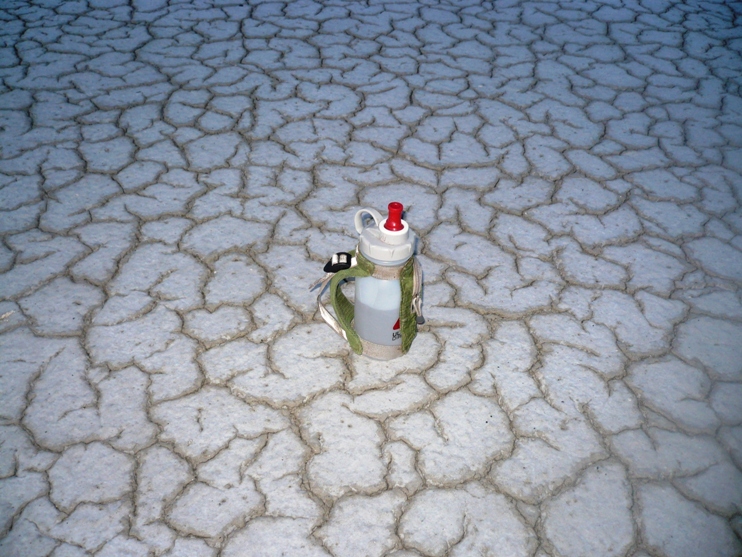 We ran across the freeway and some more salty patterned flats back to our car.  It had been a wonderful adventure run.  My forefeet were left rather sore from 26 miles on the hard surface of the dike.
My conclusion was that it would be possible to organize a crazy unique ultra in the Salt Flat area.  There will be a free adventure run out there on April 29, 2011.   See: http://hstrial-saltflats100endu.intuitwebsites.com/home.html   It will be a test run, supported but a first-time event for those who can deal with the unexpected.