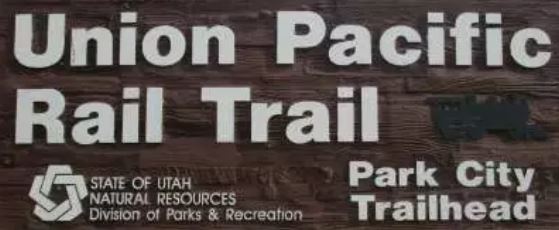 The Historic Union Pacific Rail Trail is an amazing 27-mile smooth trail that starts near Echo Reservoir Dam and travels to downtown Park City, Utah. It is maintained as a state park and is 22 miles of smooth dirt and about 5 miles asphalt pavement.
In 1849, coal was discovered in Chalk Canyon, a community was established, and it eventually was named Coalville. In 1873 a rail line spur was completed from Coalville to Echo to transport coal to the transcontinental rail line. In the mid-1860s, silver was discovered in the canyons near Park City (known then as Parley's Park City.) The first silver ore was shipped by wagon to Echo in 1871 and then taken by rail to Salt Lake City for smelting.
In 1880 the rail line spur was extended to Park City and used to transport silver ore from the mines to the rail line in Echo. In 1927 as construction began on the Echo Reservoir and Dam the rail line needed to be relocated higher. In the early 1960s, skiing took hold in Park City and in 1965 the rail line was used for "Ski Trains" that came from Salt Lake City, to Ogden, to Echo, and then to Park City. The final Ski Train ran in 1971.
In 1989 the rail line was abandoned. The rails and ties were removed and the bed deeded to the State of Utah Division of Parks and Recreation. continue reading…